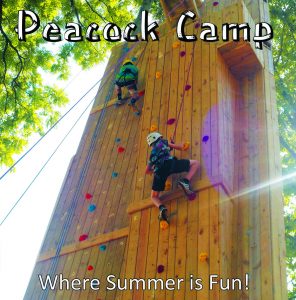 Lake Villa Township's Peacock Summer Day Camp offers an exciting and adventurous environment for your kids to have an unforgettable summer of fun! Camp will be held in one week sessions and campers can sign up for any or all sessions. Camp days are structured with organized activities but also allow for some down time and weather contingencies if needed. Each one-week session will incorporate swimming, boating, fishing, beach fun, projects, outdoor adventure and more. Our counselors will work to give your child a positive and memorable summer experience.
This year we are excited to introduce team-building with our low ropes course and rock wall, and High Adventure High Ropes Course with our oldest campers!
WE ARE ADDING WEEK 9!
Our last session will be August 7th – August 11th. We have limited staff this week so the program will be limited and we are only able to offer early morning extended care. Spots are limited and there will be no waiting list.
WEEKLY RATES
$160 per week per resident, $180 per week per non resident
**Session 1704 $128 per resident, $144 per non resident
An $8 discount will be awarded per session when registering for multiple sessions/campers.
Extended Care: 7am – 5:30pm
$25 for either am OR pm; or $40 for both
REGISTRATION
Registration is now available online below. You will create an account as the parent/guardian and register each camper separately. A minimum 10% deposit is due at the time of registration to secure your spots. You may pay in full at anytime or auto-billing will be set up when you make a 10% deposit with the remaining balance due the Monday PRIOR to each session.
You may login to your account at anytime to make changes or to check your balance.
If you prefer to register in person please do so at the Lake Villa Township Office at 37908 N. Fairfield Road (a the Caboose Park).  A minimum 10% deposit is due at the time of registration to secure your spots with the remaining balance due the Monday PRIOR to each session. printable registration form