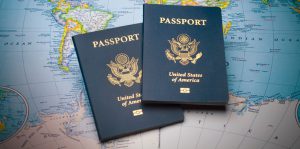 Passport forms are available in the Supervisor's Office Monday's through Friday, from 7:30 a.m. until 3:30 p.m. The standard passport fee is $110.00 for ages 16 and above, and $80 per Child under the age of 15. The fee's for all passports must be made by check or money order to the U.S. Department of State. All passports will require a separate fee to Lake Villa Township for $35 each; this payment can be check or cash. The fee is the same as the processing fee handed over to any passport processing agency. Processing could take up to 6-8 weeks.
Applicants are require to bring in proof of citizenship and have a proper ID. The standard proof of citizenship would be a Certified Copy of your birth certificate (raised seal of issuing agency) and the standard identification form like a driver's license or State ID. Applicants with current or expired passports must submit their old passport for cancellation with their application for a new passport. Two duplicate passport photos 2 x 2 inches in size are required of the applicant along with an image size from the bottom of the chin to the top of the head (including hair) of between 1 and 1 3/8 inches. The photo must be recent, normally taken within six months, and of a good unretouched likeness of the individual showing a clear front view, full face, taken in street attire without headgear or dark glasses. Photographic paper, either in black/white or color with a plain white background is acceptable; Polaroid photos are NOT accepted. Photos are available from a wide variety of sources, price varying considerably. Check photographers listed in the yellow pages of the telephone directory.
Call the Supervisor's Office at 847-356-2116 for more information of the U.S. Department of State at www.state.gov.