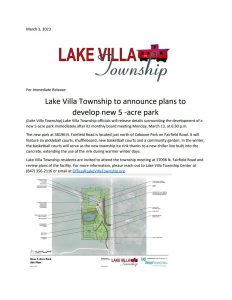 Lake Villa Township to Unveil New Park Plans
Lake Villa Township will hold a special meeting on March 13 at 6:30 p.m. to discuss details surrounding a new 5 acre park at 38196 N. Fairfield Road. Residents are encouraged to attend to the meeting to give input if they'd like. More information is available in the attached news release.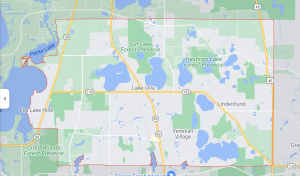 Lake Villa Fire Protection District Notice
THE LAKE VILLA TOWNSHIP BOARD WILL BE MAKING AN APPOINTMENT TO THE LAKE VILLA TOWNSHIP FIRE PROTECTION DISTRICT BOARD. THE APPOINTMENT IS THE REMAINDER OF A THREE YEAR TERM, BEGINNING AS SOON AS PRACTICAL AFTER APPOINTMENT AND CONTINUING UNTIL MAY 5, 2024.
Lake Villa Fire Protection District Appointment Notice 2022
Welcome to Lake Villa Township
Lake Villa Township is located in northwest Lake County and was incorporated in 1913. The township covers about 26 square miles and boasts a population of 39,748 in 2018. Portions of Antioch, Grayslake, Lake Villa, Lindenhurst, Old Mill Creek, Round Lake Beach and Round Lake Heights are situated in Lake Villa Township.
According to Wikipedia, Lake Villa Township was created in 1913 from parts of Antioch, Avon, and Grant townships. Early settlements of Monaville and Stanwood long predating the creation of the township. In 1883, businessman Ernst Johann Lehmann bought 300 acres in Stanwood and changed the name to Lake Villa. Lehmann then encouraged the Wisconsin Central Railroad Company to lay its new railway through the area. In 1886, the new line opened with a station in Lake Villa.
The railroad acted as a spur to enterprise beyond the farming which was the mainstay of the larger region, Wikipedia continues. Resorting was the principal industry in the township into the 1930s and ice cutting was the seasonal labor.
The most important development following the Lehmann era was probably the creation of the village of Lindenhurst, subdivided by N. H. Engle and Sons in 1952 on the former Lehmann estate. The village was incorporated in 1956.
Over the past decade the township landscape has become increasingly marked by subdivisions and strip malls, with a corresponding reduction in farm- and woodland areas. However, large areas of green space have been preserved by the Lake County Forest Preserves; units include Duck Farm, Grant Woods, Hastings Lake, and MacDonald Woods.
To register to receive E-News from Lake Villa Township or the Village of Lindenhurst, click on the link: Lake Villa Township ~ Village of Lindenhurst